MANAGING MEMBERSHIP, ATTENDANCE, CHILDREN AND SMALL GROUPS
Software as a Service, or SaaS for short, has been making waves in the IT community for the last decade, with more and more companies moving their key services, such as CRMs, database systems and sales tracking tools, into the cloud.
ChurchSuite was built from the start to work as a SaaS platform, which means that every single update gets applied to your account instantly, no updates to run, patches to install or servers to manage – it's the way Church Management Software should be.
ChurchSuite is built on the back of nearly a decade of research and experience building church intranet software. Having consulted with academics, pastors, administrators and all manner of staff from across the church, we're confident that ChurchSuite is designed for people like you.
ChurchSuite's modules include contact management, children and Sunday School groups, attendance tracking, event and church HR management, a powerful Small Group management system, a module for volunteer management and serving rotas, church service planning software, as well as a module for managing the resources of your church. ChurchSuite is the next generation of Church Management Software – take the tour to find out more.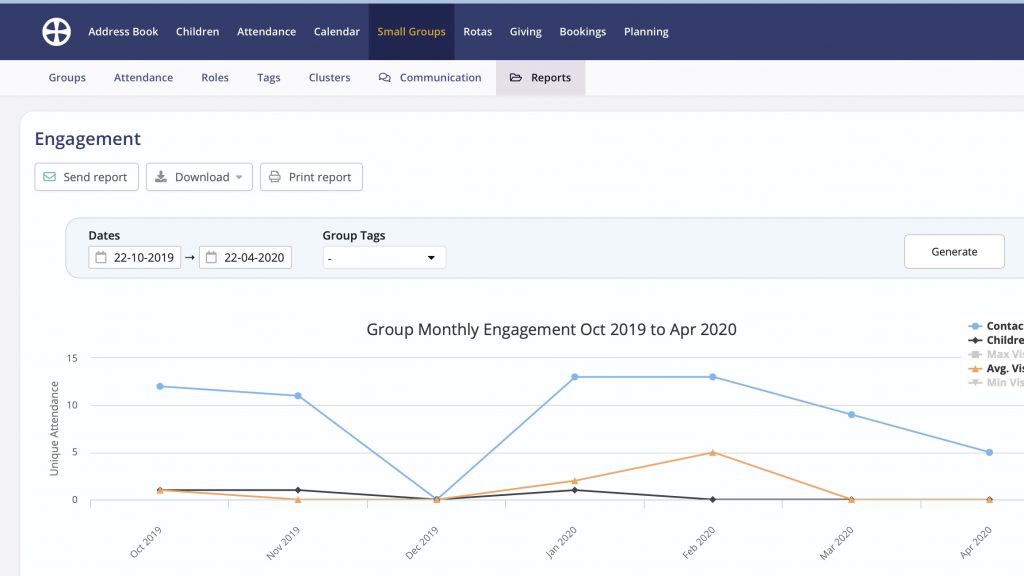 FOCUS ON WHAT MATTERS
Tired of wasting your time, strength and other resources on things that don't matter? ChurchSuite helps you do things much more efficiently, and, well, painlessly! Take communication, for instance: do you want to send all your small group leaders an email? Or would you like to text everybody going on that weekend away? No problem. No need for tedious copy and paste jobs - ChurchSuite makes this functionality available at the click of the mouse. It's that simple!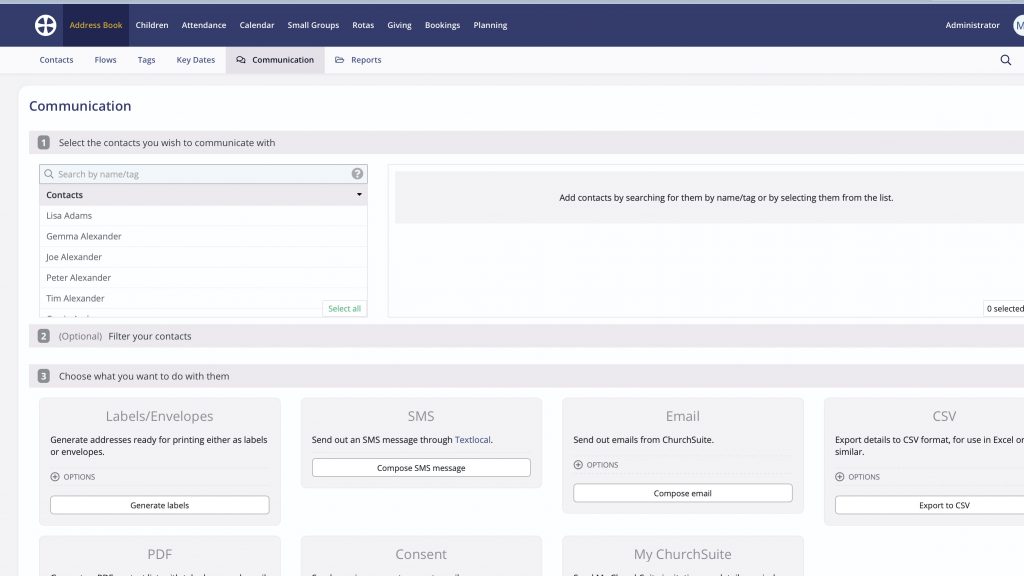 CHURCH MANAGEMENT SOFTWARE IN THE CLOUD
You may have heard the term 'Cloud Software' or 'Distributed Computing', they both mean that the software doesn't require you to look after the server. With ChurchSuite we take it a step further — you have total control over users, user privileges and which modules you want installed. Then, you can lean back and leave the rest to us.
ChurchSuite is the way Church Management Software should be, claim back your time with ChurchSuite.