Today we're thrilled to let you know that the most popular feature request from our customers - ever - has arrived in ChurchSuite! Having accelerated development, we're now opening access to the beta version of our new Forms feature to all ChurchSuite accounts.
Why now?
We've been working on this for a while. At a time where many churches are restarting in-person activities and making difficult choices around how that happens and what that looks like, we believe Forms could be a huge help in gauging the temperature of congregations as they take next steps.
Whether you're looking to solicit volunteer availability as you re-start your services, putting together an application form for your internship programme, or creating an event booking/communication workflow for others to complete, we think you'll find Forms incredibly helpful.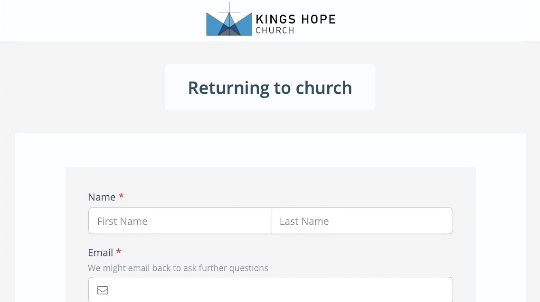 What are Forms?
Forms currently exist in the Address Book and Children modules and can be used for a wide variety of purposes, from surveys to parental consent for a youth group trip to electoral roll forms. Importantly, you can build your own forms - they're customisable. We've even installed a selection of example forms to get you started.
Creating a form, inviting people to complete it and then accessing responses is incredibly straightforward. And the fact that this is all integrated into your existing ChurchSuite account, rather than a third-party tool, makes this all the more useful and accessible.
As we open the beta version of Forms to customers today, we've got further features that we'll be adding in the coming weeks, including:
Actions - the ability to trigger certain actions depending on the responses given on a form

Person updates - when a respondent who already exists in your Address Book or Children module provides updated information through a form - such as a new address - you'll be able to update their profile with the newly-submitted data

Person detection - we'll detect and suggest the best matches to make the process of linking respondents to existing contacts or children quick and easy.

Conditional questions - where form responses control the visibility of subsequent questions eg respondents answering Yes or No can see a different follow-on question.
For more information on how Forms work, please check our support articles on building forms and form invitations. We think Forms are amazing and we know this added functionality is really going to help churches.