Widgets in ChurchSuite
When you log into your ChurchSuite account or open the app, the first screen you see gives you a glance at some important info and a chance to dive right in. Today, we're super-charging the way this works by launching widgets for the ChurchSuite Dashboard!
We all know widgets from our phones or laptops. Done right, they're far more than pretty decorations for our home screens; they're incredibly useful windows into our system which surface important information at a glance and enable us to click through and take action quickly. This is exactly what we're aiming for with ChurchSuite widgets!
Customise your Dashboard
Choose from our selection of widgets. Which information do you want to see at a glance? Which things do you want direct access to, without having to navigate through the menus? Select the widgets that work best for you - you can have unlimited widgets!
Move and rearrange the widgets to your heart's content to create a ChurchSuite Dashboard that is specifically geared towards your work flows. In fact - many of the widgets can even be further customised to your needs!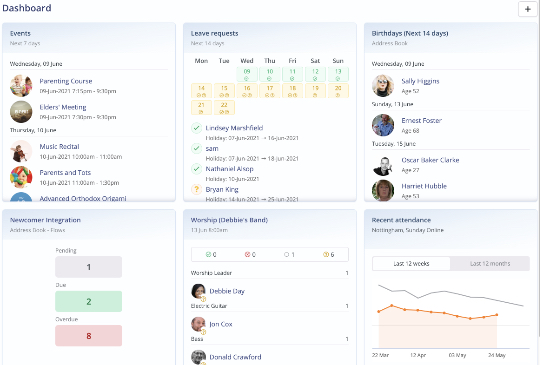 Which widgets are there?
At launch, you're able to pick from 16 widgets. And yes: we do have plans for even more widgets in the future! This includes widgets for recently edited contacts, children and givers, for upcoming birthdays, bookings, events and plans - we'd encourage you to explore them all!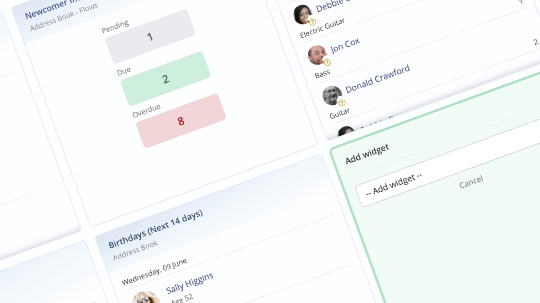 Some of our favourites and ones you might want to check out right away are:
Flow - Select a flow  from the Address Book, Bookings, or Giving modules that you're responsible for and display the status.
Events - See upcoming events and click to go directly to the relevant event page. There's also a widget for a single event as well as one for featured events!
Rota - Next date - Choose a team to keep tabs on in terms of upcoming serving dates.
We hope you're as excited by this as we are! Why don't you head to your ChurchSuite Dashboard now and try it out?
For more details on the new ChurchSuite Dashboard and the widgets you can pick from see our support article: The ChurchSuite Dashboard
We'd love to hear what you think, which widgets you find especially useful, and of course, any great ideas for new widgets and why you think those widgets would be helpful - get in touch at support@churchsuite.com