Managing user permissions enables churches to strike a balance between letting people get involved in aspects of their church management system while continuing to place huge importance on the security of their members' personal data. In other words: this lets people get involved while keeping members' data safe.

That's why we're incredibly excited about the new and improved user management system within ChurchSuite!
More granular permissions
So far, churches have been able to give ChurchSuite users "use" and "manage" permissions for each module, as well as stating whether they can access the various "Connect" tools (for instance, child check-in in the Children module).

With this new update, churches are now able to further differentiate which level of access a user needs for each module. This means that it is now even easier to strike the right balance between giving users the level of access they need while ensuring best data protection practice.

Here's a list of the new levels of access which are now possible: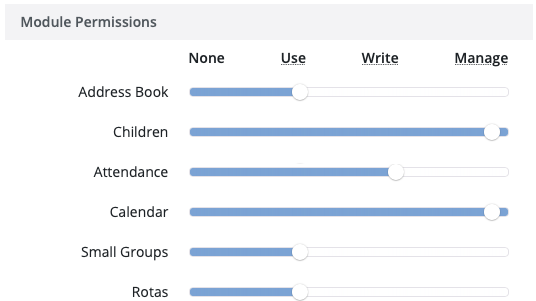 The new user permissions sliders.
None - the user has no access to this module.

Use – the user can access the data in this module but can't make any changes such as editing, importing or deleting data.

Write – this is a brand new user setting which enables full access to the data in the module, giving the ability to add, import, edit or delete data. In addition, this setting now grants an ability to view (but not edit) the module's settings.

Manage – the user is able to manage the module's settings and thus to make changes that affect all module users.
Convenient "Connect" section
In addition to the slider there's the "Connect" section. This lets you specify "Connect" access on a module by module basis - for instance, if you wanted a user to be able to set up a child check-in, you'd give them Connect access to the Children module. Conveniently, Connect access is granted to users irrespective of their level of access to the rest of the module.

Finally, it's worth mentioning that Administrator level users continue to have "Manage" level access to all modules in your ChurchSuite account, as well as automatically having access to all "Connect" tools.
Visual change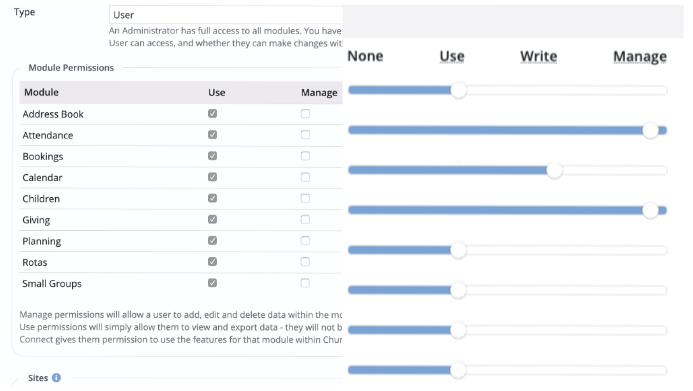 A comparison of the old and new user permission controls.
We believe that the visual experience is important, as it helps churches use the system effectively and understand the user interface intuitively. It is our aim with this redesigned user management page that, despite the fact that the controls are more granular, it will feel easier to use because of the intuitive "slider" design we've built.
Check your permissions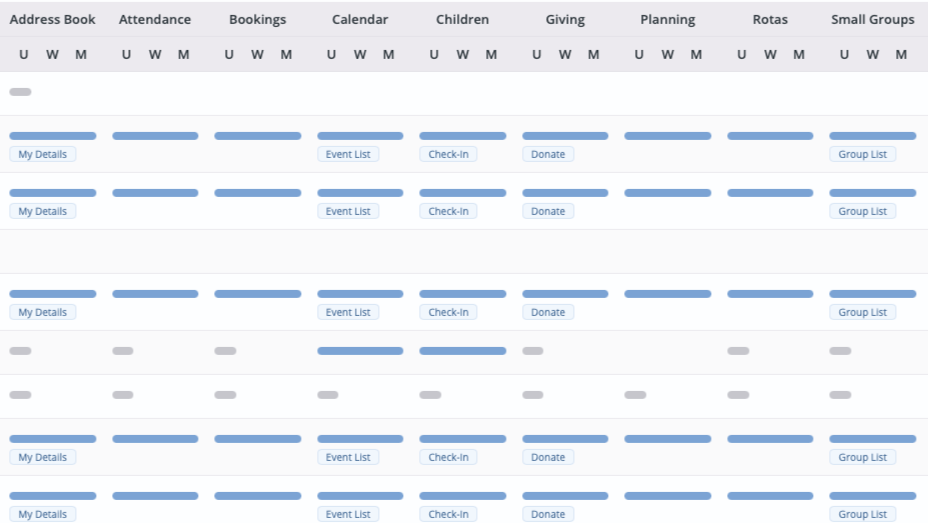 The user permissions report.
With these new permission changes, now is the perfect time to check over the levels of access each of your users has. Just head to the "User Permissions" report within Administrator for a birds eye view of which of your users can access what.

Overall, we're pretty pumped about this update and believe that it will make a huge difference! For more detailed information on the various permissions and how to make the changes, please take a look at our support page. And, as always, we look forward to hearing from you as you explore this new functionality!