It's one thing to know who has signed up for your events, but wouldn't it be great to have a record of attendance? And what about those times, like a leader's meeting, when it would be really helpful to take an impromptu register of attendees? Welcome the arrival of Event Check-In!
Event Check-in is incredibly simple and intuitive to use and it can be used on absolutely any event in your Calendar module - not just those with sign-up enabled. Here's a short video that runs through the main features.
How does it work?
Users of the Calendar module in ChurchApp can access event check-in through the button when viewing the event details; for church members using My ChurchApp, if they're listed as an event overseer, they'll find a Check-In button on the event page too. Our iOS and Android "apps" even have a built-in QR code scanner to enable overseers, or others with an authorised device, to quickly scan the QR code now included in the body content of event sign-up confirmation emails. Your event attendees can also check-in using the sign-up QR code now shown in My ChurchApp, presenting their phone and having their code scanned straight from the screen!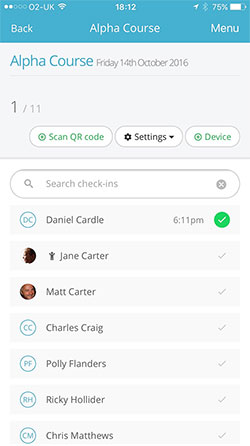 Event Check-In isn't just restricted to events with sign-up. When opening a check-in session for any event, you have check-in settings that you can select that will enable intelligent contact searching of your Address Book or Children module contacts. Once enabled, you can simply scroll down the list, or type a name in the search bar, and then a single click will record a date and time-stamped attendance record against your event in ChurchApp.
Back in ChurchApp, like the 'Sign-Ups' tab, you'll now see a new 'Check-Ins' tab (once you have some check-ins!). This tab has lots of post-event management features. Easily print or download check-in reports, assign check-ins to Flows, Key Dates and Tags. And don't forget to look at the amazing communication options! You can easily tailor your post-event communications to those in your database and those that aren't; or perhaps filter your recipient list to just those who attended certain dates or number of dates within a sequence.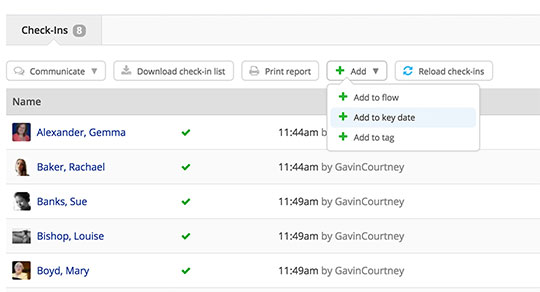 For events where people sign up to a sequence, like a marriage, membership or Alpha course, the Check-Ins tab builds an informative table of check-in data, making it really easy to see who attended which dates in the sequence, and who was absent. Keeping up to date with people and following up appropriately with your event guests is so simple.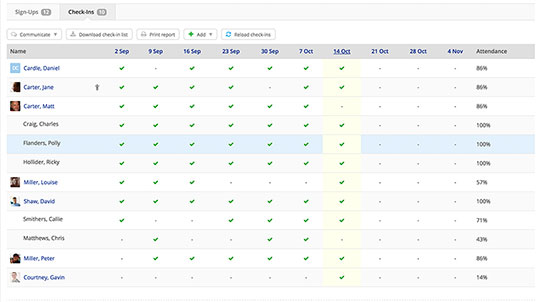 Need a hand?
We've created a helpful support article that explains Event Check-In, the intended functionality and how to get the most from this new feature. Our full library of support articles are available online via the "Ask a Question" beacon in ChurchApp - just search by keyword, phrase or topic.
We've still got lots more planned for the rest of the year - watch this space!
In the meantime, if you have any feedback or suggestions for us, please don't hesitate to get in touch we'd love to hear from you.