At the heart of ChurchApp is the ability to intuitively stay on top of managing your church's contacts. We've been listening to your feedback and in response we're excited to take the wraps off of a new feature that will make it easier to deal with duplicate contact records. Essentially you can now merge duplicate contacts (in the Address Book), children (in the Children module), or Givers (in the Giving module), keeping the best of each contact record while still retaining all those other vital pieces of information like rotas, small groups, communications history, recent changes, Tags and Key Dates. No more copying and pasting between browser tabs!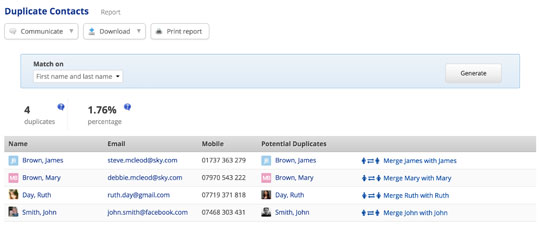 Identifying duplicate contacts and children
You can easily identify duplicate contacts and children in your database using the "Duplicate Contacts" report in the Address Book and Children modules Data Cleansing reports (see above). We also provide a "Potential Duplicate" information message on the profile page of your contacts (see below).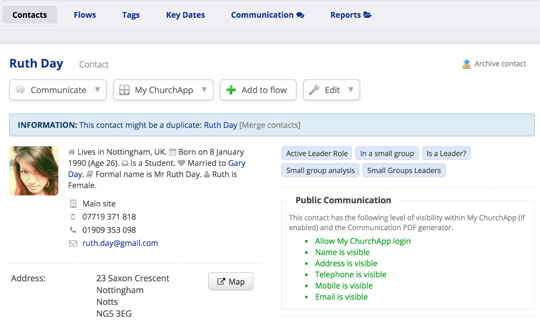 Identifying duplicate Givers
As with duplicate contacts in the Address Book or Children modules, you can easily identify duplicate Givers using the "Duplicate Givers" report in the Giving module Data Cleansing reports. We also provide a "Potential Duplicate" information message on the profile page of your Givers (see below).

Quick and easy to use
Having first confirmed a potential duplicate is an actual duplicate, you can either select "Merge Contacts" (or "Merge children" or "Merge Giver", depending on the module that you're in) from the profile page of one of the duplicate contacts/children/givers (as shown above), or you can select to "Merge Contacts" (or "Merge Children") directly from the Duplicate Contacts report (or "Merge Givers" directly from the Duplicate Givers report).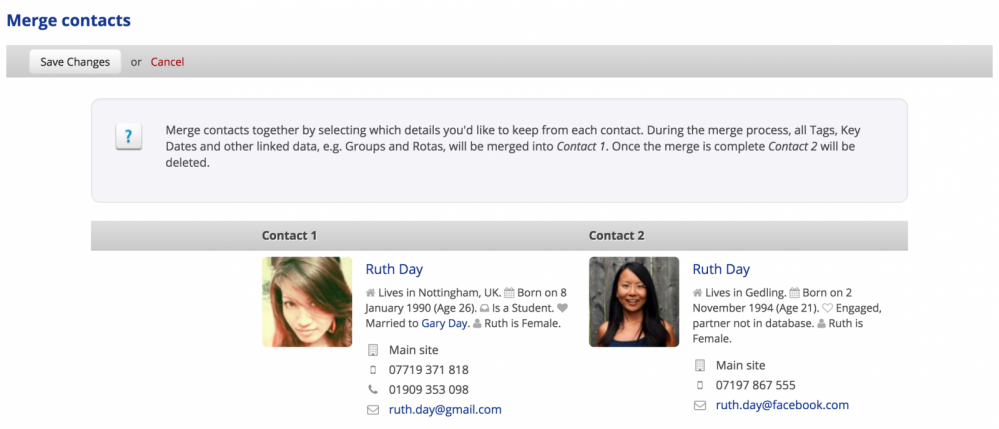 Now it's just a simple process of determining which details from each contact/child/Giver you'd like to keep once they are merged together. The process for merging Givers is identical to merging duplicate contacts or children. Scroll down through each section of the Merge page, making your selections as appropriate. When you're happy with your selections, simply click "Save Changes" to merge the two contacts together - Contact/Giver 1 is merged and Contact/Giver 2 is deleted. It's that simple!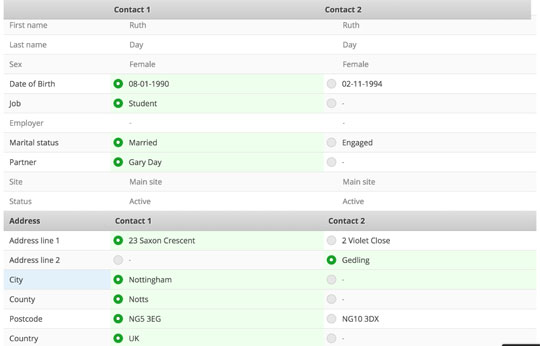 Need a hand?
To help you get the most from this new feature we've put together a detailed support article for merging duplicate Contacts or Givers that will walk you through the entire process of merging duplicate Contacts, Children or Givers from start to finish. The support articles also outline in detail all the data that gets merged.
We really hope this a useful addition to your data management. This is just one of the brilliant new features that we've been working on lately - there's even more new things coming very soon - watch this space! If you haven't done so already, why not sign up to ChurchApp's mailing list and get these posts direct yo your inbox? In the meantime, if you have any thoughts or suggestions for us, please don't hesitate to get in touch, we'd love to hear from you.