MORE THAN JUST NUMBERS
Tracking your church's growth can be a time consuming task, though there's little doubt it's an important one. Knowing your attendance and growth allows you to gain an overview of how things are going on the ground and, while this is by no means the only or even most important measure of a church's success, knowing these statistics is certainly a helpful tool for church leaders and administrators.
ChurchSuite provides not only a quick and easy way to log your church's attendance but goes that bit further, providing you with a breakdown of attendance with graphs and averages – getting your data into the format you need to make the right decisions. It's the way a Church Attendance Database should be.
ChurchSuite doesn't just stop at the numbers though, with its attendance tracking function it allows smaller churches to keep a record of who attended on any given week – providing a neat breakdown on each person's contact card. Want to check in with the families that haven't been around for a few weeks? ChurchSuite's attendance module allows you to do just that.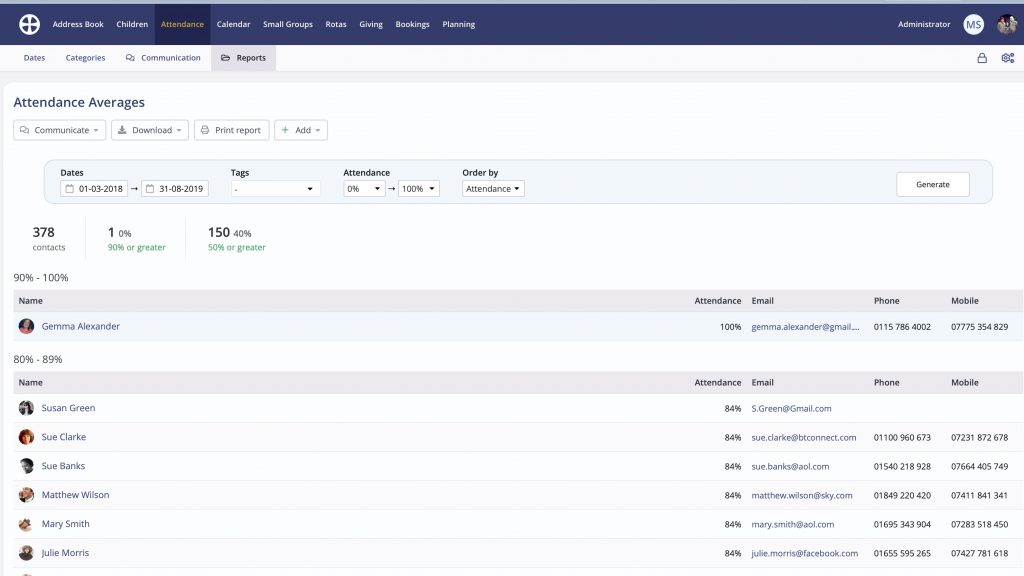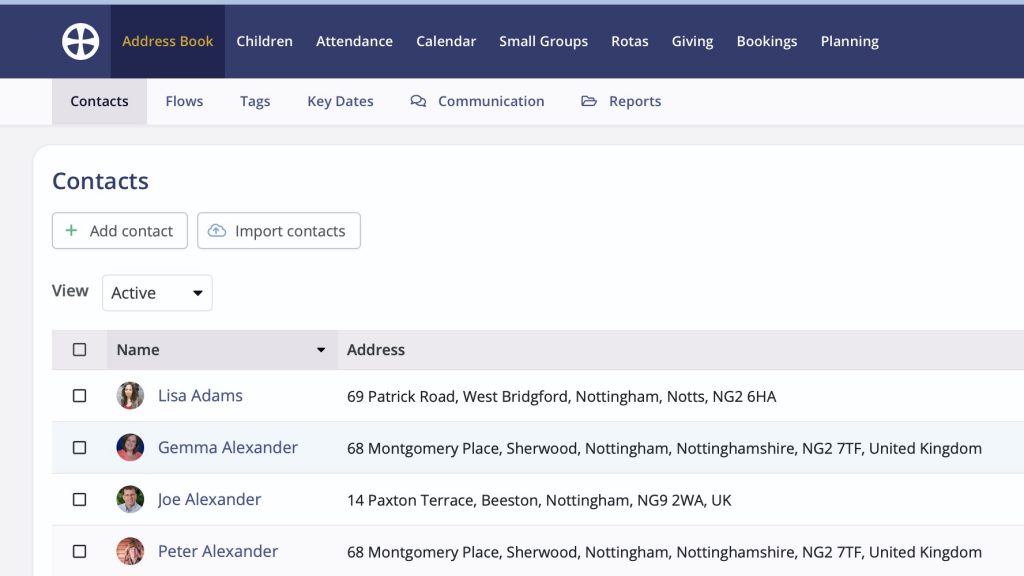 SOMETHING FOR EVERYONE
Whether you're a church of 40 concerned for church members who have been missing more than usual and might need extra support, or a church of thousands needing to track ten children's groups, three services and your youth ministry, ChurchSuite is designed to handle it all.
SMALL GROUP ATTENDANCE
Through ChurchSuite's Small Group module you can track attendance at your church's small groups. Whatever the size of your church, making sure that no one falls through the net is an important but extremely challenging task. ChurchSuite gives you the tools to make this simple, enabling you to focus on your ministry and not your church database system.
STOP WASTING PRECIOUS TIME
How much time does it take you or your staff to go through paper lists or spreadsheets (if you even have time to write them!), racking your brains to try and make sure pastoral support is targeted effectively at those who are most in need of it? How much time is wasted when your team's pastoral support efforts are mis-targeted? Imagine a world where you could take a quick look and get an exact idea of how to best target your attention. That is what ChurchSuite can make possible for you and your team.
Whether you track church attendance through the Attendance module, or whether you simply ask your small group leaders to track attendance at their small groups through the Small Group module, the ChurchSuite Church Attendance Database will make this data available at the click of a mouse (or the tap of a finger, as the case may be!).
ChurchSuite takes Church Attendance Database Software to a new level, we think you'll love it.