More Flexibility
For most accounts, the fields that ChurchSuite provides out of the box cover everything they need. When you need to record something extra, we allow you to configure custom fields - perfect for additional details such as "Membership status", "Dietary requirements" or anything else you can think of!
Today, we're thrilled to announce that we have completely redesigned how custom fields work, with the new functionality immediately available. While much of the work was "under the hood", there are also a lot of visual changes as well as new functionality that will enable you to use ChurchSuite in an even more flexible way.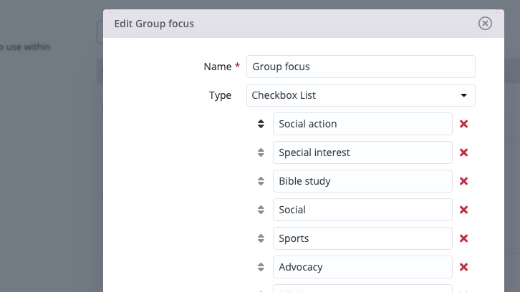 Reorder fields and options
In addition to being able to reorder the fields themselves (want "Member status" before "Next of kin"? No problem!), you can also reorder the options for radio, checkbox and drop-down lists! Simply drag, drop and save - your reordered options pull through to your whole system anywhere where this custom field is used.
Archive
Perhaps you've created a "Member status" custom field with a "member", "non-member" and "associate member" option. Your church decides it wants to change the system and remove the "associate member" option. You now have the option to either delete or archive the option. Should you choose to change your mind and bring the option back in the future, you could simply re-activate it without having lost any data.
More smarts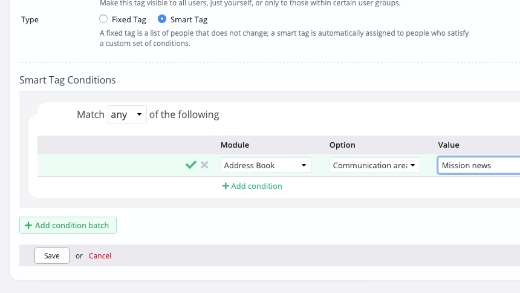 Format recognition and validation
ChurchSuite now recognises more formats within custom fields, for example Email and Phone. So, if you want someone to enter their email address or their phone number, ChurchSuite will be able to automatically validate whether the data entered is correctly formatted and we'll show the email/phone keyboard when entering data too. No more missing .coms at the end of email addresses!
Better filtering
Filtering by your custom fields is much improved - this continues to be fantastic for smart tags, but with this new update we have now greatly expanded what you can do with custom fields in advanced search.
No more limits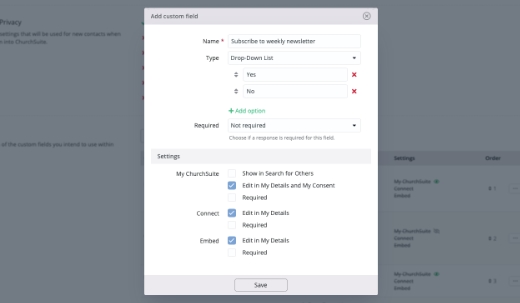 No longer just 10!
A much-requested feature, custom fields are no longer limited to just 10 fields - add custom fields to your heart's content! (Just remember that Tags and Key Dates are incredibly powerful, so don't try to replace them with custom fields!)
Across the breadth of the system
Currently spanning the Address Book, Children and Small Groups modules, custom fields are useful not just for the back-office of ChurchSuite, but also for the parts that your members see. With this update, we have increased the places where custom fields can be used. Here are just a few examples of how custom fields could prove to be useful:
In the Address Book Embed to enable you to gather more bespoke data in your online forms.

In the My Children section in My ChurchSuite, useful for parental consent questions such as opting in or out of your church's youth newsletter or "walking home" permission for children in your youth club.

In the My Details form in Connect - when adding a child, parental consent could be surfaced straight away as part of that process, rather than having to contact parents afterwards.

You could use custom fields to track different types of small groups, making it easy for your members to find the right group for them.
Overall, custom fields are now more robust, more powerful, and even more flexible to use. As ever, many of these changes are a direct result of customer requests - we're thankful to those whose ideas have helped us shape these updates.
For detailed information about custom fields, see our support articles on custom fields for contacts and children and custom fields for small groups.
We're sure you'll find these changes helpful and we'd love to hear your comments and feedback!