We often hear how ChurchApp's Event sign-up functionality has revolutionised church event management for many of our customers. Creating, publicising and promoting your events is so intuitive, and the sign-up process so accessible for your church members and those you seek to reach out to. Today, hot on heels of launching Smart Tags just two weeks ago, we're delighted to announce the release of a significant update to the Calendar module.
Introducing, Event Questions...
Event Questions are designed to enable you to ask people customisable questions when they're signing up for one of your church events; so now you can now capture all that extra essential information you always wished you'd had or needed prior to an event. Church event planning and management just got even easier.
Why might I want to use Event Questions?
Here's some suggested and creative ways you might use event questions to get you thinking.
Event questions can be used in so many creative ways - the possibilities are endless... Need to ask about special dietary requirements or getting parental consent for youth or children events? Just add a drop-downlist of menu options or a checkbox to confirm that the parent is happy with the child being taken off-site. Or perhaps you want to ask "How did you hear about us?" and have the person signing up enter free text with their response - no problem, we've got you covered!
When you add in a question, you can choose from single sentence, paragraph, drop-down, checkbox and radio list response types. D
epending on the response type you choose, you can then set up the response options, for example for the radio list type, you might have options for "Yes", "No" and "Maybe"
.
Adding questions to events is really simple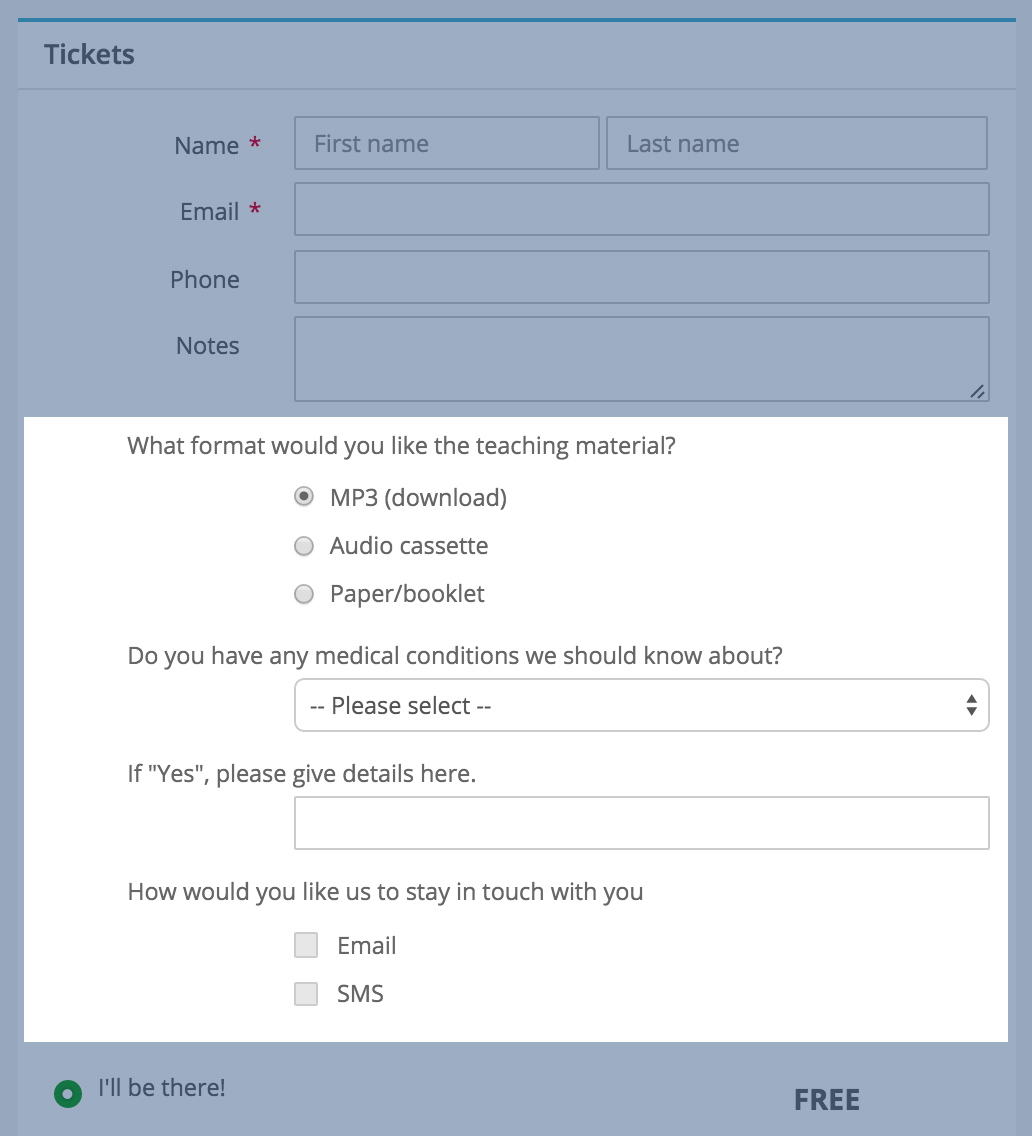 We've given the Event Edit page a facelift to save some of the scrolling as the page gets longer with new features. When adding or editing an event, there's a new section located just below the event visibility section. Here you can create event tickets, and configure your confirmation email, but more importantly there's a new menu section for your Questions.
Adding new questions is really simple and intuitive; just click the Add question button. Having typed your question, choose the response type your signups will be given.
You can add as many questions as you like, but obviously bear in mind that too many questions will extend the length of your booking form and might make signing up feel more like a questionnaire! Maybe just keep it to the essentials, unless the nature of your event merits it.
Event Management becomes really simple as responses are recorded against each sign-up in your Event, so you can easily drill down to see individual sign-up responses. All Question responses are also included in the body of any sign-up confirmation email that's sent to event overseers or the person signing up.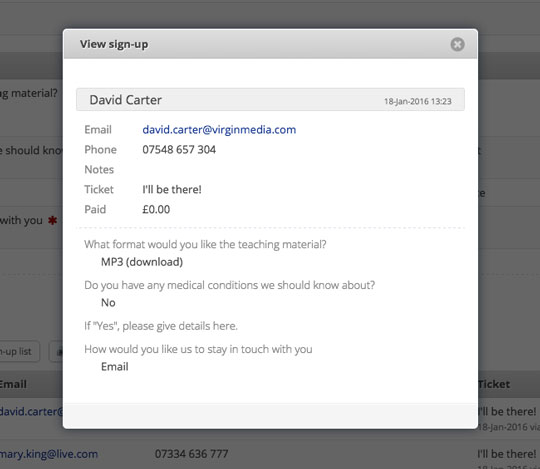 The CSV sign-up list is a perfect report to send to your events team, and includes question responses, so they can better plan or prepare accordingly. And of course, you can communicate with your sign-ups directly from the Event Page by either email or SMS, or push sign-ups into a Flow, Key Date or Tags.
Getting going & FAQs
To help you get going with custom questions for your Events, we put together a support article on adding custom questions to your events that goes into more depth on how you can get them set up. We've tried to answer all the questions you might have, but, as ever, if you'd like some help just get in touch with our Support team.
Better is better!
There's an old saying that "bigger is better". We're looking forward to sharing about some brand new features in 2016, but do know that we're also committed to improving our existing functionality, like enhancing Calendar Events with this new addition of Event Questions. Sometimes bigger isn't better; better is always better. That's certainly front and centre in our vision for ChurchApp development this year.
We can't wait to tell you what's next - watch this space!