We're constantly striving to make our church communication software as easy-to-use and versatile as possible. Every day our email service is used by hundreds of churches, sending out millions of emails each year!
Our integration with MailChimp makes it incredibly simple to communicate effectively with your membership, while our integration with the cloud storage service Dropbox allows you to easily include important files and documents to emails sent through ChurchApp.
We're excited to announce even more updates to our email system today that we think make sending emails through ChurchApp versatile:
Increased attachment options
In response to user feedback we've been working for some time to expand the number of options that are available when attaching files to emails sent through ChurchApp and we've cracked it! In addition to our existing integration with Dropbox you now also have the option to attach files from Google Drive, Microsoft One Drive, Evernote or from your own computer!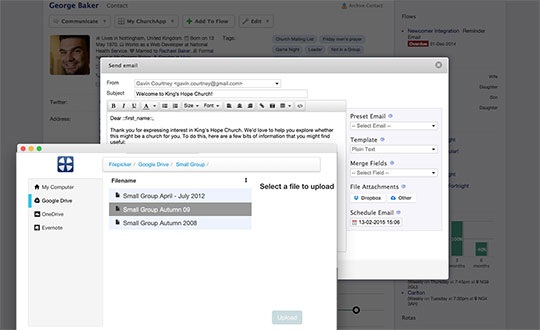 Files that are included in an email using this method will be stored on ChurchApp servers for a period of six months before being removed.
Email Templates
We've also enabled email templates for all emails sent out through ChurchApp. These come in three different variations: Plain, Branded Header and Branded Slimline.
Plain is simply a plain email without any special formatting or graphical additions, whereas Branded Header includes your church name and logo in the header of your email, making it perfect for more official church communication and announcements.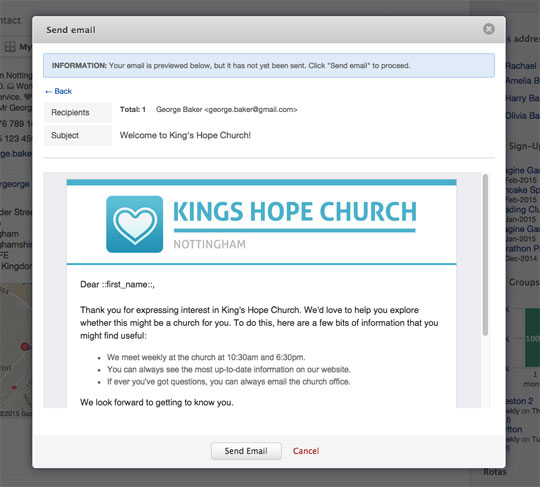 Branded Slimline sits at the midway point between the first Plain and Branded Header, featuring a narrow band of your church's chosen colour scheme in the email's header and your church name and emblem in the footer.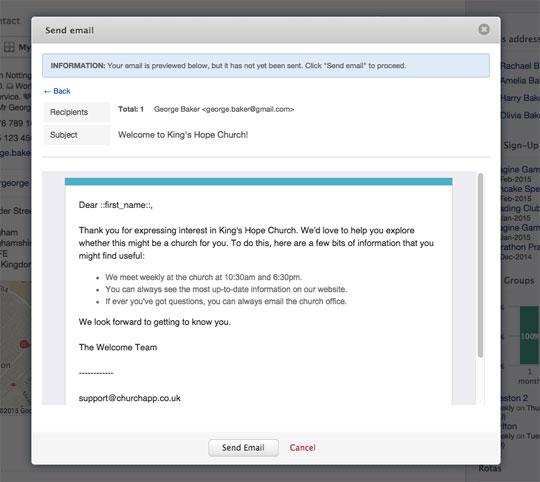 Recipient List Size
Finally, when sending out an email to more than 25 recipients, you'll now see a progress indicator of just how many people the email will be sent to. Whether you're sending to contacts, children, group members or even givers, ChurchApp now shows you the proportion of all people that you're sending the email to. This is yet another visual indicator to help prompt you to ensure you're sending the email to the correct recipient list before you send a mass email.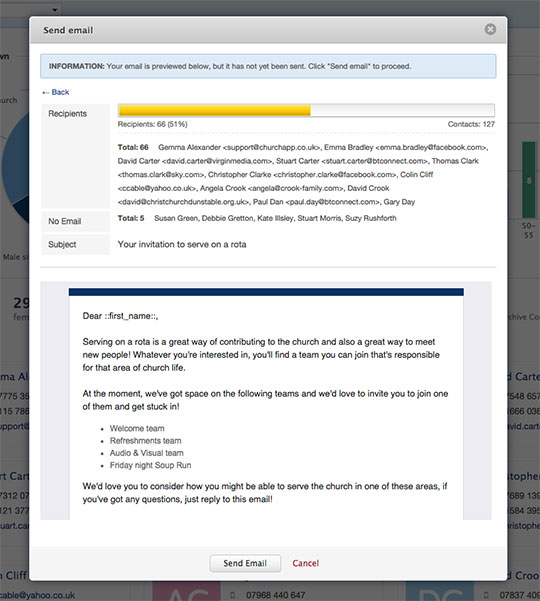 All these wonderful new options are now live and available on your account, so log in and give them a try! If you have any thoughts or suggestions for us, please don't hesitate to get in touch, we'd love to hear from you.