We've been working on this for months, and we're delighted to announce the launch of ChurchApp Public, an integral part of ChurchApp that allows your church members to update their own details from our secure church membership system. Now, some of the administrative load of the church can be shared by members themselves, as they can be responsible for making sure that their contact details are up-to-date, and can even search the church Address Book for others too!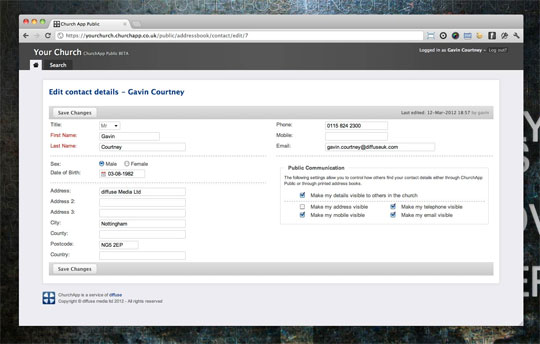 From within ChurchApp Public, your church members can set their own privacy settings - making details such as address, telephone, mobile or email hidden from other church members, but available for your staff team to view. Granular control over privacy settings makes sure that members are happy with who can see their contact details.
Members can also search for others in the church database system, with search results within ChurchApp Public only displaying the results that your church members have configured. The privacy settings even carry through to any PDF address books you generate - if someone has withheld their telephone number from ChurchApp Public, the PDF will reflect that, and their details are only available to your staff team accessing ChurchApp.
Don't forget, all traffic to ChurchApp and ChurchApp Public is encrypted with military grade 256-bit encryption, so all your church members' details are safe and secure.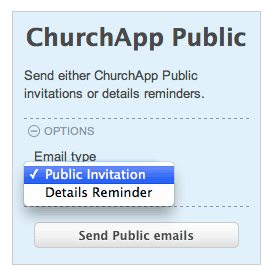 You have full control over who has access to ChurchApp Public - only want to open it up for leaders in your church? - No problem. Only want to roll it out to a couple of small groups in your database? - No problem. You can include and exclude individuals from ChurchApp Public at any time, and then send out invitation emails in a batch, either by selecting individuals, or using ChurchApp's powerful tagging system.
And if all of this wasn't enough, we've even got a solution for helping you keep your church database system up-to-date by reminding people what details are stored for them, and prompting them to update them if they're incorrect. An email automatically goes out from ChurchApp every year to everyone you've granted access to ChurchApp Public, reminding them of their details, and prompting them to ammend anything that's out of date.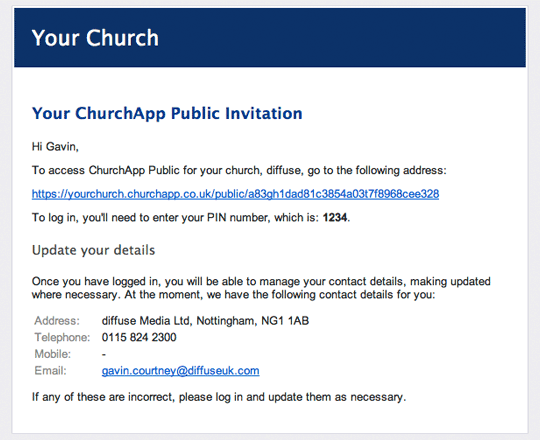 We're really excited about ChurchApp Public, and this is just the beginning! We've got so much more that's going to be added in the coming months - manage your child's details, submitting small group attendance, access to the church's Public calendar...
This is just the beginning.