Many group leaders in churches serve faithfully, week in and week out: caring for, investing in and developing people, walking through difficult times with members of their group, sharing life - their service is invaluable to churches!
However, group leaders themselves often lead busy lives, and leading a small group can sometimes feel overwhelming! This is why ChurchSuite comes with a variety of tools that can support group leaders by making the organisational aspects of their ministry much easier and quicker. Here's a selection that you may find helpful as you seek to empower and support small group leaders in your church!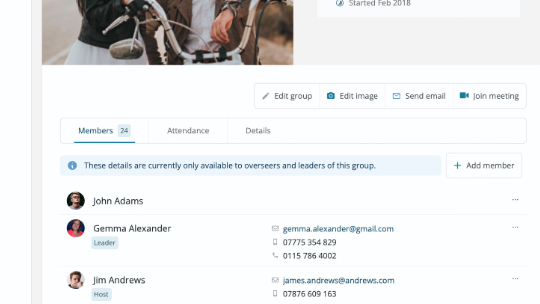 Within My ChurchSuite, we provide an always-up-to-date list of members with their contact details - incredibly useful when it comes to caring for each individual. Leaders are able to use this as a list of people to pray for, praying through the list as they consider who has potential to be trained up as a future leader, or simply find contact details to reach out. It also enables them to have a constant overview over who is part of their group.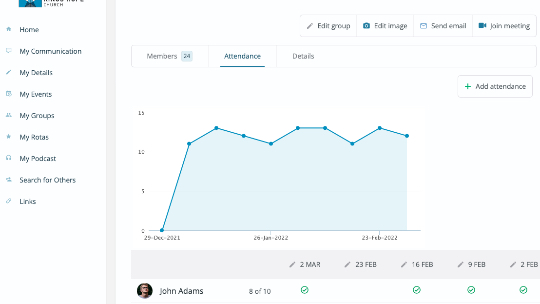 Some leaders have an excellent memory, but we don't all have that gift! However, even those with the best memories, can't remember attendance over the course of weeks. Remembering who's engaging with the group, whether someone is drifting away or indeed growing into the group is a significant pastoral indicator that many find useful.

We've built attendance tracking right into My ChurchSuite to help group leaders pastor more effectively. In fact, there's scope to further reduce group leaders' workloads by giving someone else in the group the responsibility for adding weekly attendance - simply create a "role" for them in the small groups module to activate attendance tracking in their My ChurchSuite.
Group sign up
Build sign-up forms to streamline the process whereby new members join the group, taking even more administrative load off the group leaders and ensuring they're always working with an up-to-date list of group members.

Communicating with the group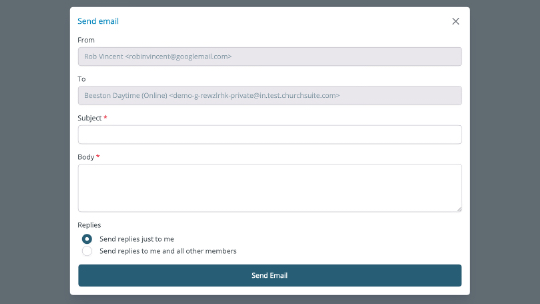 Gone are the days of constantly out-of-date email lists. Instead, leaders need to remember who is on WhatsApp, who is on Signal, and who prefers emails. Easy, right? Well...
For those who want a simpler way, we've built a tool that makes leaders' lives easier when they're trying to communicate with the entire group: send messages through My ChurchSuite and they're delivered (by email) to anybody currently in the small group. You can choose whether you want the answers to be sent only to the sender or to the whole group.
ChurchSuite's Small Groups module has an abundance of features to help you empower the group leaders in your church. If you're using other ChurchSuite features to help make your group leaders' lives easier and their ministry more effective, we'd love to hear about it - just drop us an email.