Customers who meet in multiple locations find using our multi-site functionality an invaluable tool in identifying the primary site that someone belongs to. Today, multi-site functionality gets super-charged!
As we've listened to feedback from multi-site customers, a common thread we've heard is the desire to be able to assign a person to more than one site. The good news is that with our latest release, which is available on your account today, you can now assign people to multiple sites.
There's even an "All sites" option, meaning that people are assigned to all your current sites and any new sites you may add in the future. The functionality extends to contacts (Address Book module), children and visitors (Children module) and customers in the Bookings module too.
Helping you to administer all this, Users can also be set as "All sites"- ideal if you're planning to add new sites in the future and you want a user to automatically inherit user access for the new sites. It's incredibly intuitive and easy to use!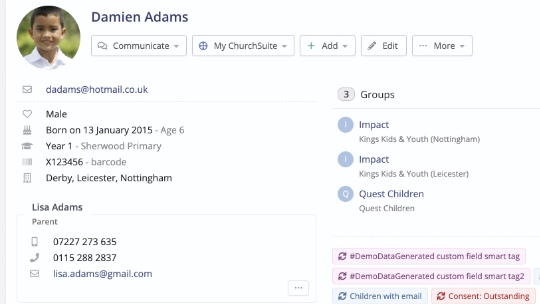 How does this work
The new functionality is best seen first on a user's profile where you can set each user's site permissions, including a new option for All sites.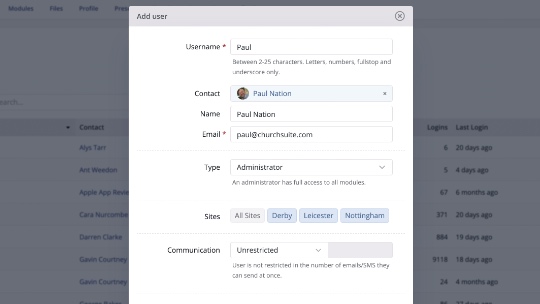 When a person is added to ChurchSuite or their details are edited, there is now a list of sites that you can select or deselect rather than a drop-down menu to choose from. A small change in the interface that translates to a huge jump in functionality!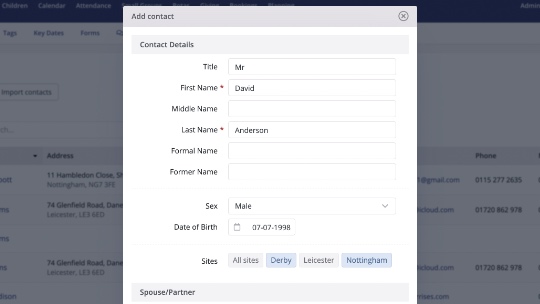 It might seem like only a small visual change, but it's taken many months of development and testing. We're confident this new multi-site functionality is going to unlock even more potential in your ChurchSuite account!
As ever, we hope that you'll find "multi-site people" really useful and we'd love to hear how you get on with it.