As church doors re-open and congregations return to in-person gatherings, many leaders and rota overseers are expressing uncertainty about reactivating their rotas. Our previous serving communities may have changed and some may still be reticent about returning to large group gatherings, while others will be eager to take missed holidays.
Despite our best communications - sending requests to block out unavailability, sending rotas and sending rota reminders - there's a degree of uncertainty around the volunteers needed to make rotas happen.
With this in mind, today, we're announcing a new rota feature designed to help your rota members better manage all their serving commitments and give those overseeing rotas greater clarity about the serving status of those scheduled to serve.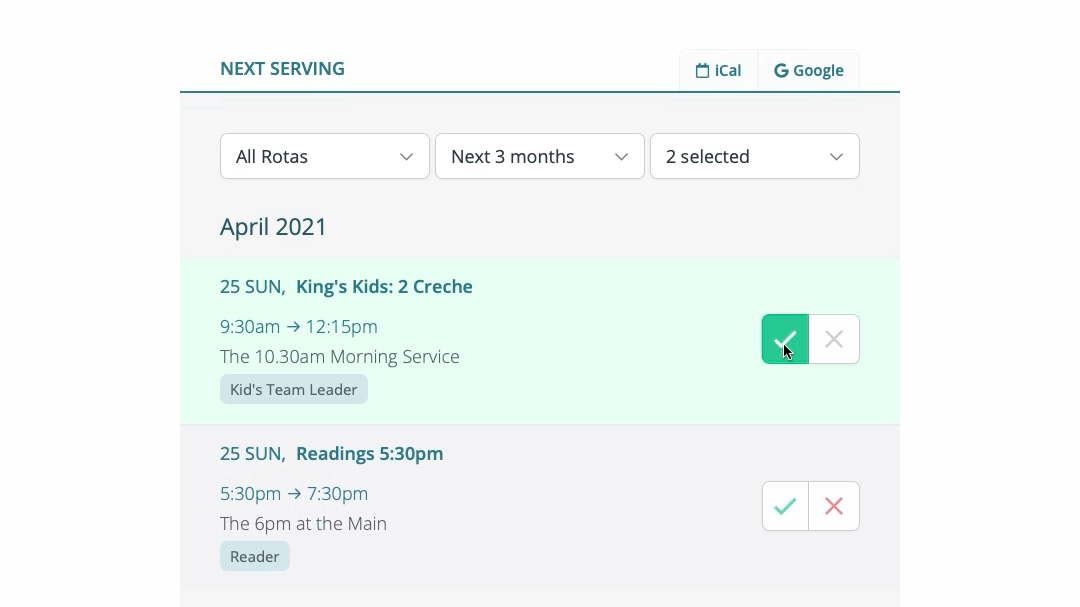 The new Rota Accept/Decline functionality is first enabled in the module's settings and can then be enabled on a per-rota basis, making it possible to send rota serving requests and for rota members to easily accept or decline their rota assignments. All rota views in ChurchSuite and My ChurchSuite show the latest serving status of each person on each rota date, with overseers receiving decline notifications alerting them to potential rota gaps.
Team members you can rely on
Rota Accept/Decline also introduces a brand new 'personal serving' My Rotas page that rota members can access to view all their rotas and manage their serving responses.
By asking your team members to take a proactive step to let you know that they're able to serve, you're not only helping them to remember, but also decreasing your team leaders' anxiety and giving them peace of mind that the people they're counting on will definitely show up!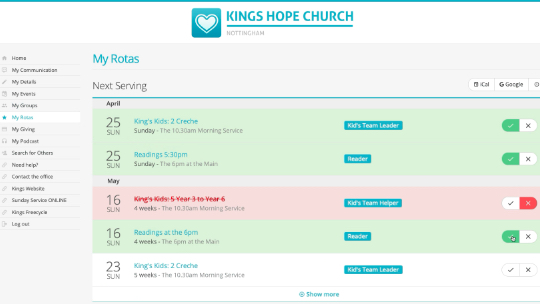 Manage serving commitments
Giving your rota members ownership of their rotas and providing them a simple, affirmative way to manage all their serving commitments will help to build a healthier serving culture.
We believe this new feature will really help churches as they plan great 'in person' events and services once again. For further information about this new functionality, check out our new support article.