Collaborate on a great plan
When planning a service or an event - whether it's online or in person - if you're not using ChurchSuite to plan it, you're missing out! Intrigued? Here are just a few of the many ways the Planning module can help you plan your event.
Build and share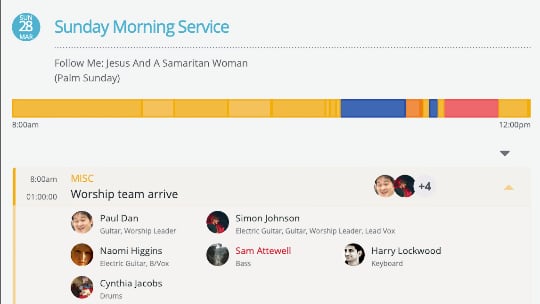 You can easily link plan items to your rotas so that everyone knows who's doing what and when. This means that, as your rotas change, your plans remain up to date. Drag and drop items on the plan to change the order, add comments and important notes for those running your services or events, and even upload files to a plan so that those involved have everything they need in one place.
Share plans with your team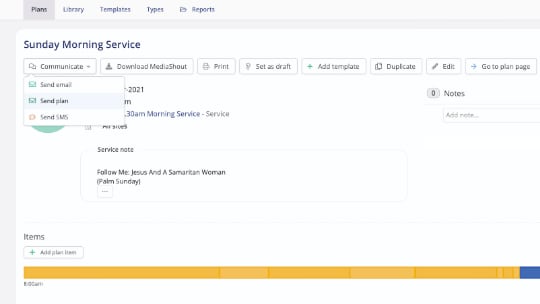 Once you publish the draft plan, you're then able to send a link to any volunteers who might need it, enabling them to open up a colourful and easy-to-use plan on their phones or laptops. The version of the plan that loads on your volunteers' screens is always the most up-to-date version, including any last-minute changes.
Build your own library of songs and resources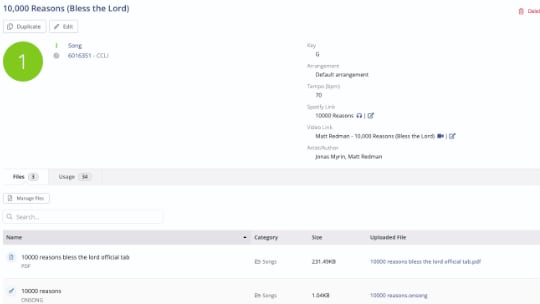 Add your songs (and other plan items) to the library. This makes it really easy to drop them into your plans, while providing a straight-forward way of keeping track of how often a song has been used for your annual CCLI return. Once you've set things up, you'll find that working with the Planning module adds a lot of convenience and efficiency to the planning process. And speaking of convenience: you should definitely try creating templates for your regular events. This is a generic plan that can serve as the starting point for each plan you make, saving you loads of work each time!
All this has only really scraped the surface of what you can do in the Planning module - but if you're someone who hasn't yet started to use this module, then hopefully this will have helped to open up some of the possibilities for you. The best way to get started is to try it out! And if you want more in-depth information, why not head over to our support section: https://support.churchsuite.com/article/564-planning.