Communication, communication, communication
During this season we're in, building community is arguably even more important and valuable. And yet, it is an incredibly hard thing, too. Despite the deck being stacked so thoroughly against close human interaction, churches are finding safe ways to bring people together and foster community and ChurchSuite comes with a, well, suite of tools, to support churches as they do so.
In this feature insight, we want to focus on the small groups module specifically. In a time where churches are often unable to gather, small groups and online small groups have become incredibly important. Here are some of the ways (in no particular order) in which ChurchSuite can help your church build community - we hope some of these ideas will help and inspire you!
Many churches find that, while people can sometimes be uncomfortable with their contact data being shared with everyone in a church, the ability in the Small Groups module options to let members of a small group see the other group members' details strikes a great balance between privacy and wanting to connect people with each other and build community. It may seem like a little thing - but at the moment, many groups are meeting online and so lowering that connection hurdle. Making it easy to get in touch with others during the week is a valuable aspect of fostering community.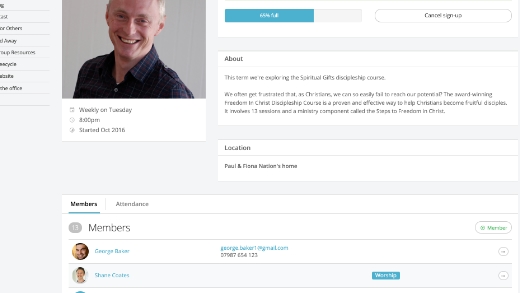 Church leaders are under a great deal of stress and so are church offices. That's why the ability, built into My ChurchSuite, to email all the current members of the group can be an extremely convenient way for small group leaders to regularly keep in touch with everyone and provide a regular point of contact. And they don't need to depend on church administrators to do so!
Making online meetings accessible
Who hasn't been there: you communicated in about 10 different ways and yet there's always that person who couldn't find the information and thus asks you to send them the Zoom link at the last minute, just as you're getting ready to host the meeting. With ChurchSuite, your reply could basically amount to: it's in the app! In other words: we've built online groups functionality right into ChurchSuite, so people can simply go to "My Groups" in the My ChurchSuite app and find the link there. Simple.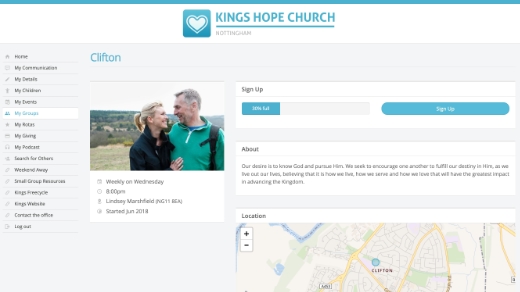 In a similar way, the ability to sign up to a new group through My ChurchSuite or even through your church website is not only useful for reducing your church office's workload - it can make the difference between someone "planning" to join a small group and actually getting stuck in. In other words: these small ways of lowering the hurdle have the potential to result in real life-changing decisions!
Pastoral care
Decentralised pastoral care through small groups has arguably become even more important during the pandemic. There are many ways the Small Groups module helps, but one example is: knowing what's going on. Who's plugged in to a group? Who's becoming disconnected from community? Who's part of a group but not attending very often?
This kind of information serves only one purpose: to help you as you help church members to find community. It can guide your prayers, it can guide practical steps like making a phone call or sending a message and it can help your small group leaders care for their groups.
These are just a few of the ways in which the Small Groups module aims to support you as you build community. We'd love to hear your feedback and any creative ways in which you're using ChurchSuite during these challenging times - as always, you can reach our support team at support@churchsuite.com