Are you missing the great potential offered by what is one of the most basic, fundamental pages in ChurchSuite? Many of us take this page for granted, not thinking twice about the great ministry potential this page offers. Intrigued? We're talking about the contact view page!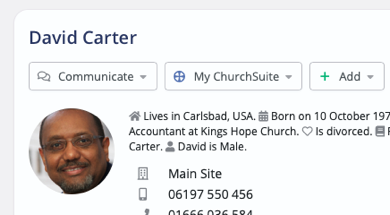 Wait - before you click on to greater things, bear with us for a moment... In this feature highlight, we want to give you a taste of the great ministry potential offered by this page, that you may currently be missing.
Key dates and communications log
So often in ministry, it can be tremendously helpful to have an awareness of a person's journey in the life of the church. Whether you're hoping to give the person more responsibility, contacting the person to help them take a next step in their faith or anything in between: it really does help. This is where the contact view page shines.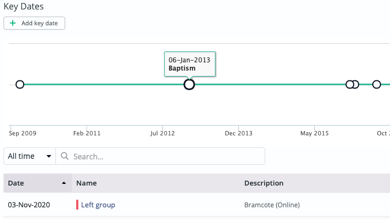 One way to get a good overview of a person's faith journey in your church is the key dates timeline, as well as the communications log. Is this person taking "next steps"? Are they engaging with your church's communication? And, are they participating?
Notes section
Especially if you're working as part of a team - but even just to remind yourself of important information - the notes section is invaluable.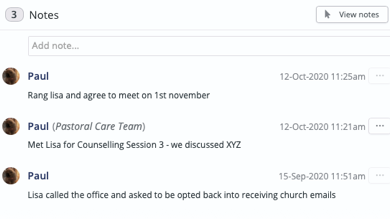 You can make notes available to only yourself, to a specific team of users or to any of your users who have access to the Address Book. Taking a look at what another staff member has written before you send an email can be a real life saver in some situations!
Additional information section
The entire right-hand column of the contact view page is devoted to displaying important information about the contact from across ChurchSuite, at a glance.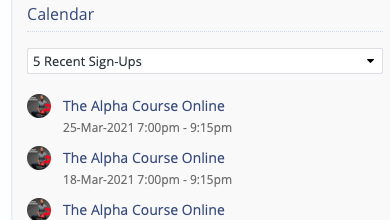 Get an idea of the contact's household, see their recent event sign-ups and small groups attendance, see whether they're serving on a rota and whether there are any Flows that need to be run (for instance, for running background checks in order to join the children's ministry teams).
All this information is there in order to facilitate pastoral ministry and help staff teams as they ensure their members receive top-notch pastoral care.
How have you been benefiting from the contact view page? If you have any questions or suggestions, we'd love to hear from you at support@churchsuite.com!