We're thrilled to announce that our Planning module, which we've been working on for a considerable amount of time, is now available! If your church already uses ChurchSuite, you can simply log in to your ChurchSuite account and find it there, ready to be used. The module is currently in "Beta testing" - the full launch of the module is on 1st August. Until then it is free to use and we are hoping to receive your feedback, thoughts and suggestions in the coming months.
Presenting... the Planning module!
Connected across ChurchSuite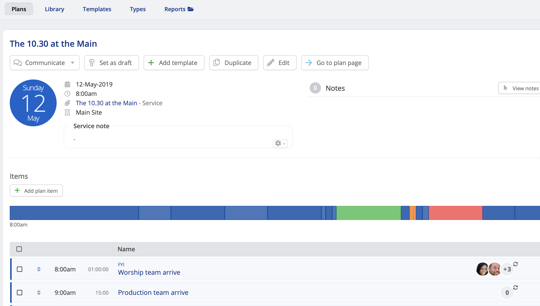 Planning module? What kinds of plans can this be used for? The answer is that you can use this module in many areas of church life! Whether you're planning one of your regular church services, or a stand-alone conference event, or even a wedding or a funeral - the Planning module is the tool to use! A plan is an ordered list of items making up the various elements of a service, event or booking. This helps to keep everyone on track in terms of timing and resources needed (such as song sheets, for instance).
Whether you're a small church that needs to make sure everyone involved in the service knows what's going on, or a large church planning a complex production and aiming to ensure that the creative and production teams work together smoothly - the Planning module has you covered.
The Planning module lets you link plans to events in the calendar, or to service-related rotas in the Rotas module. So, for instance, if a change is made in the Rotas module that affects a plan, that change then immediately synchronises through to the Planning module.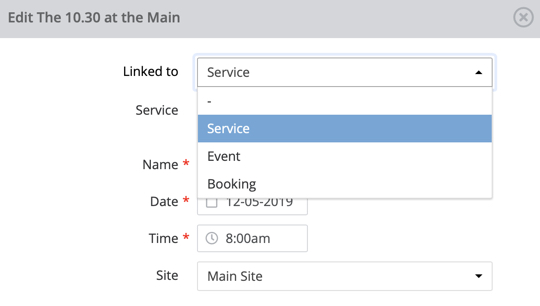 Using the Planning module will help you organise your teams in a powerful way, and it can all be done from within ChurchSuite!
Connected to other systems
We've built CCLI tracking into the Planning module, and worship teams will love that we've built in the ability to link to Spotify or to include video links, something which can be enormously useful for rehearsals!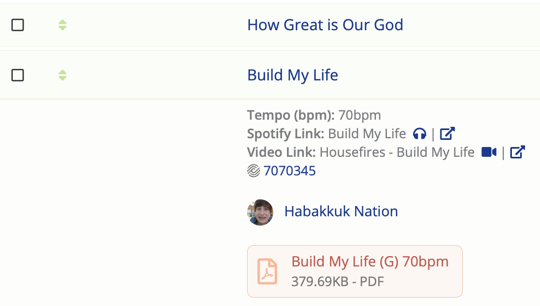 Built for teams
Work collaboratively with your team to bring the various elements of the plan together and assign people to various items on the plan. Easily re-order your plan items using an intuitive "drag and drop" user interface - remember, things move around when you're planning! Share a link to a "people-facing" version of the plan page with everyone involved in the event, ensuring that everyone's version is always the most up-to-date version available!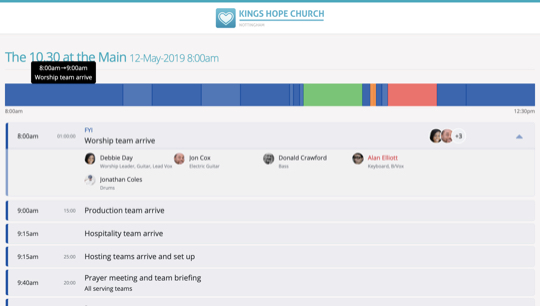 Finally, your teams will love a brand-new feature we're launching with the Planning module: file-storage! You'll be able to store relevant documents or song sheets in your ChurchSuite account and link them to items on your plan, so they're available to the people who need them, exactly when they need them. At the moment, file storage is available only in the Planning module, but there are plans to integrate this with other parts of ChurchSuite in the future.
Watch the video!
We've put together a short introductory video so you can gain a better understanding of the various way in which the Planning module could really support your church: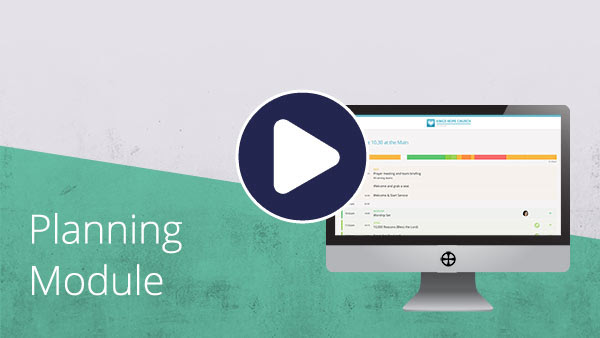 Have a play!
There is so much more to say - we believe the Planning module will prove to be an enourmously powerful tool in your toolbox! But why don't you take a look yourself? We recommend diving into our Planning module support article and then logging into your ChurchSuite account to give this new module a spin!
We hope and pray that this will prove to be a massive blessing to every single church that uses ChurchSuite!
Please let us know how you're getting on and don't hesitate to be in touch with any feedback or suggestions for us we'd love to hear from you.