We're really excited about this latest update to the Rotas module. We've added a brand new section called Services.
Now you can easily create services for each of your sites and then assign a rota to a service - essentially grouping together all the rotas for each of your different services. A brand new service view displays all your rotas for a service in a single, familiar view. You can even add service notes that display on all rotas and rota reminders for that service date. Let's take a closer look at what's new...
Add services and link your rotas to each service with ease
Adding a service is really easy - you can even assign your existing rotas to a service and start enjoying the new "service view" today!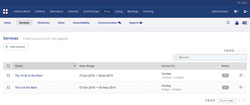 As you create new rotas, you can optionally specify the service that the rota relates to.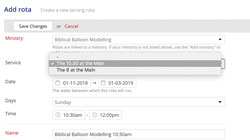 Manage each service from an new, feature-rich Service View
Like the rotas Overview report, the new Service View is fully interactive - make changes to rotas while seeing the full service picture. Rotas, rota reports and rota reminder emails now include the service name too.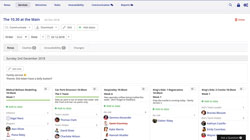 Easily navigate the dates for each of your services - you can even add new service dates - the new date can be optionally added to some or all of the rotas for a service.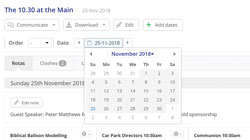 Service leaders can better stay on top of service rota changes and avoid unexpected surprises caused by clashes and unavailability!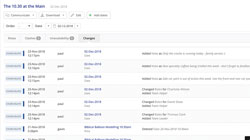 Add service notes and make your rota communications really pop!
Currently rota notes are added to a specific rota, meaning you sometimes need to add the same note to multiple rotas. It's still possible to add rota-specific notes, but now you can also add service notes for any service date - service notes show on all rotas for that service date. Service notes are ideal for communicating the service theme, the readings or lectionary for each of your services.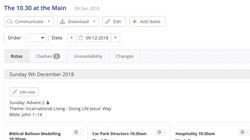 Keeping everyone in the loop just became easier!
Communicate with everyone involved on rotas for any service from the service view - ideal for that last minute service announcement to your teams.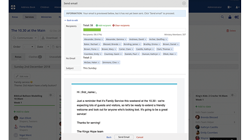 Rota members and overseers benefit from services too! Services show throughout the My Rotas section within My ChurchSuite, including the All Rotas report, which now has a new service view.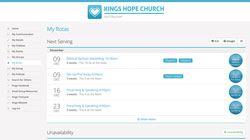 Need a hand?
We're super-excited about this latest addition to the Rotas module - we hope it makes a real different to churches as they manage their volunteer serving teams at each of their services. With Advent and Christmas just around the corner, we hope this a timely addition to your festive planning.
We've produced two helpful support articles explaining how to create services and group rotas by service, and how to add service notes. All our support articles are available online via the "Ask a Question" beacon in ChurchSuite - just search by keyword, phrase or topic.
We've got lots more features and enhancements planned for the coming year - watch this space!
In the meantime, if you have any feedback or suggestions for us, please don't hesitate to get in touch we'd love to hear from you.