Does your church do regular "vision and giving" talks, encouraging members to think and pray about how they might financially support the vision? Or perhaps you've experienced issues with people's regular giving ceasing when their payment card expires. Or maybe you're a church within the EU, where the new GDPR is coming into effect soon and you've wondered whether your online giving processes are best-compliant with the new legislation.
Imagine your givers being able to easily start pledging financially to the church, or securely updating their existing regular giving quickly and easily without having to contact the church office to first cancel their existing recurring card donations. Imagine having compliant workflows that seek the appropriate consents to process personal data without lots of additional administation for your team. These are just some of the scenarios where the ChurchSuite Giving module can make a huge difference to your church and your givers.
We've today launched a number of updates to the Giving module, all of which will make it quicker, easier and importantly, more secure for your givers to manage their regular giving online, either from the My Giving section within My ChurchSuite, or from the "Manage giving" link now embedded within the confirmation email that givers will receive when they set up a new recurring online donation through ChurchSuite Donate. Let's look at the what's new...!
Manage recurring donations from the Donate confirmation email
When a giver sets up a new recurring online donation through ChurchSuite Donate, they'll receive a confirmation email that includes a "Manage giving" link embedded within the email.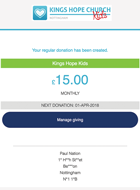 For recurring card donations, givers are now able to change their payment card, or edit their regular giving; perhaps to change the amount, or add an end date to their pledge. They can also cancel their recurring donation subscription if they need to, without having to contact the church office first. And for recurring direct debit donations, givers are able to cancel their direct debit, perhaps to set up a new direct debit through ChurchSuite Donate for a different amount, donation frequency or due date.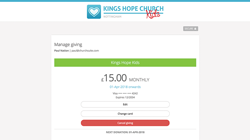 Manage recurring donations in My ChurchSuite
The same "Manage giving" functionality is also available for recurring online donations in the "Pledges" section of the My Giving page within My ChurchSuite; meaning givers can just as easily click through and manage their recurring online card and direct debit donations there too.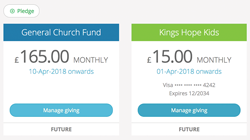 Keep on top of the changesNeed a hand?
We've added a brand new Recent Changes report to the Giving module reports (in the Pledges section) to make it equally easy for your finance team to keep on top of the changes made by users and givers.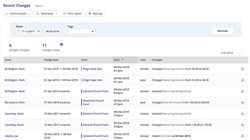 The Accepting Online Donations support article has been updated to include all the new functionality in greater detail. Indeed all our support articles are available online via the "Ask a Question" beacon in ChurchSuite - just search by keyword, phrase or topic.
We've got lots more features and enhancements planned for this year - watch this space!
In the meantime, if you have any feedback or suggestions for us, please don't hesitate to get in touch we'd love to hear from you.