Often, a church will want to invite certain people to an event and be able to track which people have responded to the invite and which ones haven't. The Event Invitations feature makes it possible for a church to send out email invites and then see who has seen the invite, who has responded to the invite and who has yet to respond.
The following feature video introduces the new functionality available in the Calendar module.
Sending an invitation
With an event already created, sending an invitation email is incredibly easy - when selecting "Send invite" you'll choose whether to create a new invitation, or select a previously sent invitation for that event. Select the ticket/s and options to be included in the invitation, and finally select the invitees, either indivdually or by tag.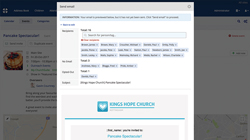 Responding to an invitation
Invitees can choose between three response options - accept, decline or more information. They can also respond from the My Events section within My ChurchSuite.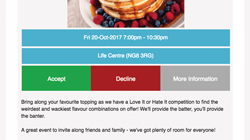 If there are no event questions and no tickets for the event (or a single free ticket), the invitee is taken through to the event page where they will be automatically signed up. If the event has questions, or there are multiple tickets, the invitee is taken through to the event page where their contact details are pre-filled into the sign-up form. The invitee can then answer the event questions, select their ticket/s and pay, if the event is a 'pay' event.
You can send invitations with 'hidden' and 'pay on arrival' tickets too - perhaps to invite people to come and serve at your event in exchange for a free or discounted ticket.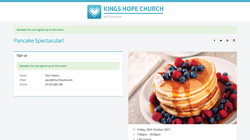 If declining an invitation, invitees can either select from two helpful canned responses, or add their own custom response reason.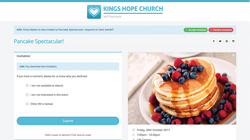 When an invitee clicks the "More Information" button within the invite email, they're redirected to the event page where they can see further information about your event. Their contact details are pre-populated into the sign-up form, so they simply need to respond to any event questions and click "Confirm" in order to complete the sign-up.
If an invitee's linked spouse or partner is also invited and they've not yet responsed, they'll be abe to respond on their behalf.

Managing invitation responses in ChurchSuite
Each time an invitee accepts or declines an invitation, the invitation status is updated within ChurchSuite, and where appropriate, a sign-up is created. Open rate tracking tells you who has opened or clicked through the the event page. You can easily filter your invitation list and communications by invitation status, perhaps to send a gentle reminder to those who've yet to respond. You can also resend an invitation or manually process a response if someone calls the church office to say they're unable to come.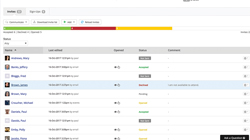 Measure what you hope to change
Need a hand?
When it comes to moving people on in discipleship, it's helpful to be able to measure what you hope to change. The Event Invitations feature helps churches do just that...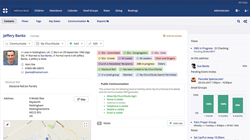 ...to maximise and measure enagagement by providing a simple and intuitive way for people to accept and sign up for events; and also to understand decline response reasons given for an event.
The Event Invitations support article includes everything you need to know to start sending invites - including the intended functionality, sending invites, managing responses, and an overview of the invitee's user experience when they're responding to your invitations. All our support articles are available online via the "Ask a Question" beacon in ChurchSuite - just search by keyword, phrase or topic.
We've still got lots more new and exciting features and enhancements planned for this last quarter of 2017 - watch this space!
In the meantime, if you have any feedback or suggestions for us, please don't hesitate to get in touch we'd love to hear from you.