It sometimes happens, either due to a change in a giver's tax circumstances, or a user error when entering donations, that Gift Aid is overclaimed (UK churches only). When an overclaim situation arises, you can now record the Gift Aid overclaim against a previously claimed donation and process the refund of Gift Aid on your next Gift Aid claim - overclaim refunds can now be included in the claim you submit to HMRC and they simply pay out the "net or refunds" claim amount.
Here's how it works...
Handling overclaims and refunds is really simple. Adding an end date to a giver's declaration will give rise to an overclaim on all donations dated after the declaration end date that have been previously claimed against. The donation's Gift Aid status will change from "Claimed" to "Overclaimed".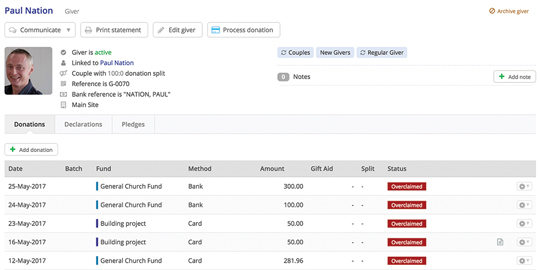 For both "Claimed" and "Overclaimed" donations you can now select "Reverse Gift Aid" from the action cog...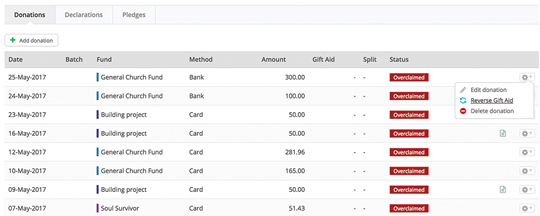 ...
And enter the Gift Aid refund amount - either a full or partial refund.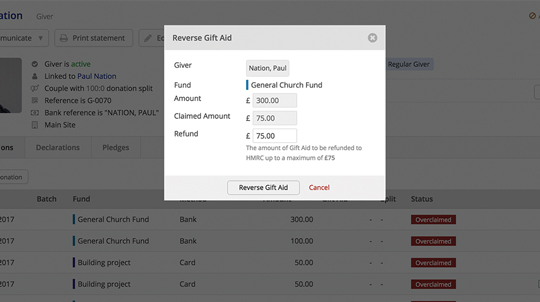 The donation's Gift Aid Status updates to "Overclaimed & Refund In Progress".

When running your next Gift Aid claim, you have the option to "Include refunds". Refunds are listed on their own tab within the claim.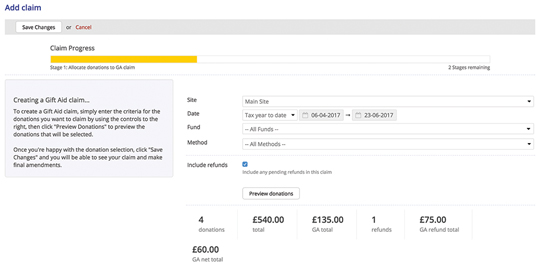 When the claim review is finished, you can either download the claim CSV to copy and paste it into the HMRC claim form for manual submission, or you can "Submit to HMRC" and HMRC will offset the refund against your claim and reimburse you the net amount. The refunded donation Gift Aid status updates to "Claimed and Refunded".

It's that easy!
Need a hand?
The Handling Gift Aid overclaims and refunds support article includes everything you need to know to record overclaims and process refunds on your next claim. All our support articles are available online via the "Ask a Question" beacon in ChurchSuite - just search by keyword, phrase or topic.
We've got more new features coming soon - watch this space!
In the meantime, if you have any feedback or suggestions for us, please don't hesitate to get in touch, we'd love to hear from you.