We've added some fantastic features to the Bookings module that we know will be a massive help to your facilities and event management teams.
1. "Daily digest" emails about changes to bookings for overseers
Wouldn't it be helpful to stay in the loop by receiving a "daily digest" email, with info about any changes made to bookings that you oversee? With the addition of Overseer functionality for your booking Types and Resources, this is now possible! You can even receive a weekly "Next 7 Days Bookings Overview" email notification that gets sent every Monday morning 7am local time.
And, for churches that need approval of new bookings: you can now set up a notification for your Bookings Administrator so they can review newly added 'pending' bookings before setting them as active.
2. Make selective updates to existing bookings
Let's say you've booked a room for an event that stretches over multiple days, but then on the second evening of that booking, you need to change the room. Sounds like it should be easy enough to do - and with our new "selective updates to bookings that are part of a multi-date booking sequence" feature, we've made sure that it is as easy as it sounds! When making changes to the booking details, booking type or resources for any booking that's part of a multi-date sequence, you can select whether those changes are to be applied to just that single booking date, or whether to apply some or all of the changes to some or all of the other dates in the booking sequence.
We've put together a short video that takes you through all the functionality of both these new features.
3. Synchronising resource times
Finally, there are plenty of times when you want to adjust the set up/down or booking time for multiple resources at once, but making the change one resource at a time is time-consuming. Handily, we've made it easy to synchronise time changes across multiple resources at one time: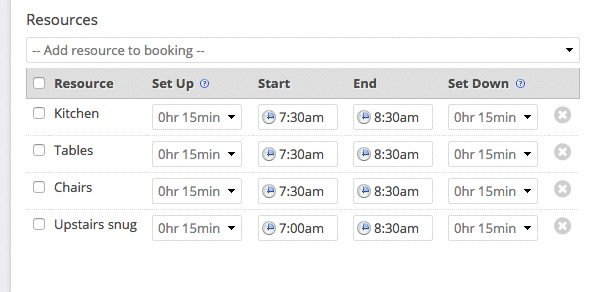 Need a hand?
To help you get the most from these new features we've put together two great
support articles for Booking Type & Resource Overseers and Bookings Sequence Updates
that walks you through all the intended functionality from start to finish.
These are two of the brilliant new features that we've been working on lately - there's lots more to come very soon - watch this space!
In the meantime, if you have any thoughts or suggestions for us, please don't hesitate to get in touch we'd love to hear from you.