Managing the allocation of rooms and resources - whether that's for internal meetings or external events like weddings or corporate functions – is a challenge that many churches can relate to. Over the past months, we've focussed in on this challenge, looking at ways to make it easier to manage and we're excited to announce today a brand new module - the Bookings module!
Resources
The cornerstone of the Bookings module is the ability to set up Resources (rooms, projectors, sound systems, church vans, etc) that are available to be booked. You can group them together into categories such as "Rooms", "Sound & Video" and "Transport" and even arrange them in priority order, so the most popular resources appear at the top. You are also able to lock resources down so that they can only be booked by certain user groups.
With each resource, you can set up specific questions to be answered during the booking process, choosing from response types such as single sentence, paragraph, drop-down list or checkbox options. F
or example, if you have a church hall with a built-in projector and sound system you could create a "Main Hall" resource, with an accompanying question of "Will you require use of the projector and sound system?", where the response is set to be given as a drop-down list indicating either "Yes" or "No".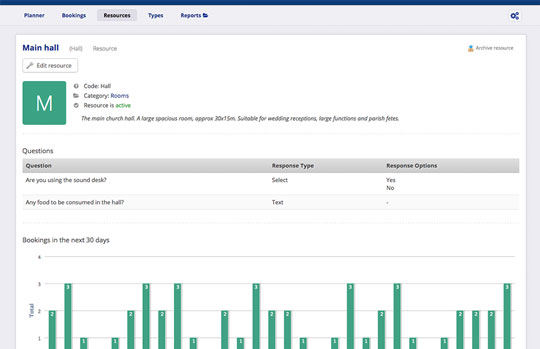 Types
Alongside Resources, we have Types which are used to distinguish between the different sorts of bookings you accommodate. Each Type has a definable colour, helping to easily identify bookings on the planner, additionally reports can be run against a selection of Types. You might choose to create specific types for "Worship Rehearsal", "Prayer Meeting", "Wedding", "Outreach Event" and "External Booking".
As with Resources, each Type can have a defined set of questions that are asked when a Booking is being created. For instance, if you're booking a room in the church for a wedding, you might ask questions such as "How many guests will there be?" and "Will you clear up the confetti afterwards?", whereas an external paid event might ask questions such as "Will you provide your own sound engineer?" and " Who will be catering for the event?".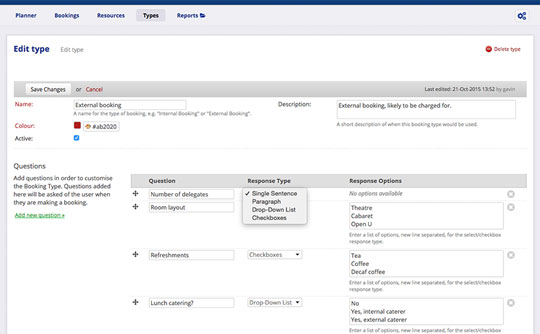 Creating and viewing a bookings
In order to create a booking, you select the Resources you want to book, the Type of booking you're creating, and answer the questions as they appear. If you try to book a Resource that's already booked out for that date and time, you'll be made aware of a clash, which Admin users can override, but other users can't.
In addition to selecting the time range the booking is for, you can also select the Set Up and Set Down time periods for each resource.
All of your bookings are then displayed on our elegant Planner view, where you can switch between day, week and month views.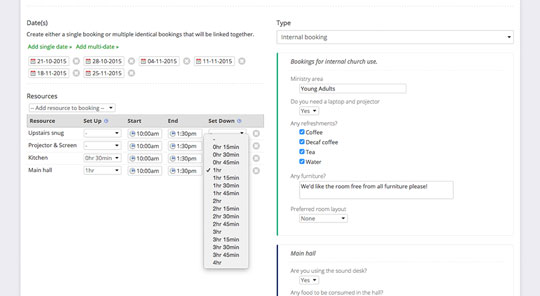 We've put a phenomenal amount of work into creating our new Bookings module, including months of development time and great user feedback from a range of churches. We're really proud of the way it's turned out and we're confident that with its array of powerful features, this module will prove to be an invaluable tool for your church too.
If you have any thoughts or suggestions for us, please don't hesitate to get in touch, we'd love to hear from you.