When we first launched the Giving module, it was with a clear focus of taking the complicated, often time consuming task of managing the donations and Gift Aid received by churches and making it as simple and intuitive as possible.
We feel strongly that increasing the ease with which churches are able to record and process the donations they receive is key to helping them operate more efficiently.
Today, we're excited to announce two significant updates to the Giving module, which will really benefit UK churches: support for the Small Donations Scheme and online Gift Aid submission.
Small Donation Scheme
The first new feature is the ability to claim Gift Aid on cash donations through the Small Donations Scheme.
The Small Donations Scheme allows charities to claim up to £5000 of Gift Aid on anonymous cash donations every tax year. This is brilliant for churches, as it allows them to claim Gift Aid on even small sums collected through the weekly offering.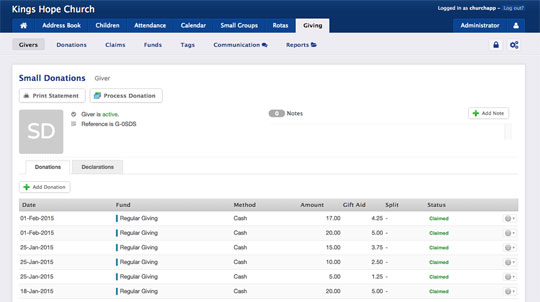 We're thrilled that our customers will now be able to make use of this new feature. Following this update churches will be able to assign any cash donations they receive to a special Small Donations Giver, which will then allow you to include those donations as part of Gift Aid claims generated through the Giving module. ChurchApp will even track the amount of Gift Aid that's been claimed and how much of the permitted £5000 remains, so there's no chance of you accidentally overclaiming!
If you've been using the Giving module for some time and already have a giver as your designated Small Donations Scheme giver, just let us know and we'll be happy to make sure it's all set up properly for your first online claim.
Gift Aid Submission
We've also massively improved how you go about submitting Gift Aid claims to HMRC. In the past completed Gift Aid claims would need to be exported from ChurchApp and submitted to HMRC separately through their website - a process which could involve waiting for weeks until the Gift Aid funds arrived in your account.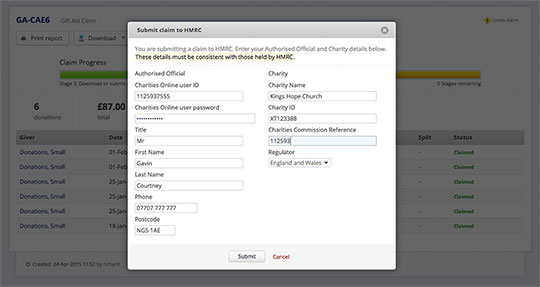 Using our new system you are able to link your ChurchApp account to your Charities Online account and then submit your Gift Aid claim to HMRC directly. In comparison to our previous method for submitting donations our new system can see your claims processed in as little as three working days!
We're certain these updates will prove to be effective and powerful additions to our Giving module. If you have any thoughts or suggestions for us, please don't hesitate to get in touch, we'd love to hear from you.