Trying to manage the integration of newcomers to your church, alongside helping to find the right small group for others, applications to join the kids team and many, many more processes is a tough job. Keeping on top where everyone's at and what you need to do to help the process can be exhausting!
We think we've got an answer and today, we're excited to announce the release of the our brand new Flows section for the Address Book.
Flows work by breaking a task down into stages; each stage has actions that can take place, ranging from adding a tag or a key date to a contact, automatically sending them a preset email or SMS, amongst several others. Using Flows you will be able to easily move a contact through a process, managing the actions that run at each stage.
Flows for new members
Flows make it far easier to stay connected with visitors and newcomers as they move through the life of the church. One simple way to do this would be to create a New Members flow that newcomers are added to directly after submitting their details to the church through ChurchApp Connect.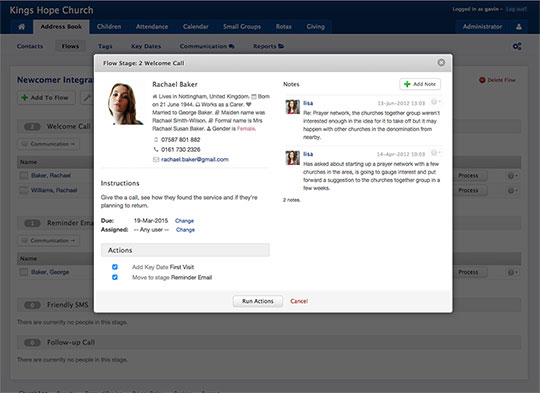 You could then create stages within that flow to gently encourage their involvement in the church, for example by sending them an email inviting them to a newcomers' event or inviting them to join a small group. In this way newcomers would be presented with opportunities to engage with the church without ever feeling overly pressured.
Flows for the church office
Flows are fantastic for keeping track of key tasks and processes within the church office. One common example for UK churches would be using a flow to track the renewal of a DBS certificate. With most churches requiring that their children and youth workers undergo a new DBS check every two years or so, Flows are the perfect tool to ensure that deadlines are kept track of and not missed off the list.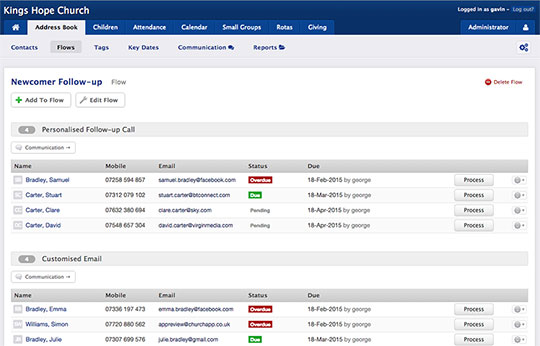 Using a flow to track this process you would create a series of stages that follow the process of applying for, receiving and renewing a DBS certificate from start to finish. This can include a stage that would be set to automatically notify you when a volunteer's DBS certificate is about to expires so that you would then be able to arrange to have the DBS certificate for that volunteer renewed.
Flows for everything!
Anything that follows a distinct process can be put into a flow; the flexibility and power that's built in means that you can make them fit with your own internal requirements, rather than having to follow a rigid set of rules.
Updates and assignments
ChurchApp lets you assign overseers to monitor how each flow is progressing. When actions are due or overdue, overseers receive an email, keeping them informed of what's outstanding and which users (if any) the actions are assigned to.
Individual users can also be assigned to watch over each stage or individual actions of a flow, allowing you delegate certain tasks or actions to the best suited members of your team. These users will also receive update emails on days that tasks they're assigned are due or overdue, showing them just the actions that they're responsible for processing.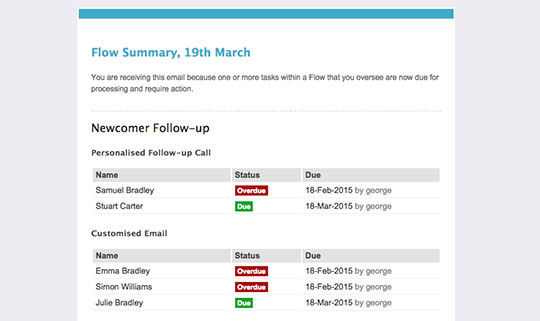 Flows is yet another powerful new feature for our church management software with a vast range of potential application that we're certain will prove to be an effective addition. If you have any thoughts or suggestions for us, please don't hesitate to get in touch, we'd love to hear from you.